1:33 pm - Vacation - Day 1
<![if !supportLineBreakNewLine]>
<![endif]>
Exposition: We arrived in Phoenix on Continental Airlines at around 11:00 AM local time. We rented a car from Alamo (that was the best deal we could find with various discounts) and we're staying at the Pointe Hilton at Tapatio Cliffs. The reason we came here is that, over two years ago, we (or rather, Beth) bid at a silent auction for a weekend here and we were the low bidders. The auction took place during the summer and the rooms were supposed to be used before the end of the year and, of course, we couldn't get it together to get to Phoenix in that short amount of time. However, earlier this year, Beth called the Director of Sales ("DOS") and mentioned that she holds that same position with another Hilton and asked if we could use the certificate in the coming summer. Naturally, the DOS at Tapatio was hesitant about giving up rooms at the height of their season. Beth asked about availability around Thanksgiving and the DOS couldn't have been nicer. Beth asked for a good rate to add some time to the weekend certificate and the DOS gave us the extra days AT NO CHARGE! So we'll be here Tuesday till Saturday morning and then drive to beautiful Sedona, AZ where we'll spend Saturday through Monday. We have a return flight at around 3:30 PM from Phoenix. Hmmmm… The rental car is due back at 11:00 AM so I guess we'll have to hang around the airport for a while waiting for the flight home.  Hey, here I am thinking about departure problems and I just got here!  Relax Ed, relax…

Later on 11/21/00

<![if !vml]>
<![endif]>The drive through Phoenix from the airport was disappointing. Phoenix proper is not the greatest looking place in the world (no offense Phoenix dwellers, you do have that wonderful fall weather!). However, as we headed to the northern section of the town and neared the hotel, the scenery was beautiful with magnificent cliffs (those would be considered mountains back in New Jersey) and winding roads.

<![if !vml]>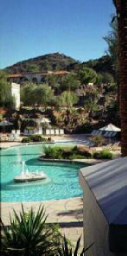 <![endif]>When we got to the hotel: Wow! The accommodations at Tapatio Cliffs are terrific. When we checked in, the desk clerk (I thought, jokingly) said, "Oh, I see you've been put in the Presidential Suite." Guess she wasn't joking. It's a suite all right and it's huge. Two bathrooms, two televisions, a Cliffside view (with a little stretching) and beautifully appointed. The grounds are gorgeous; there are four separate outdoor swimming pools – all heated and all with adjoining heated Jacuzzi's. The temperature for each pool and Jacuzzi is posted at the main pool (which has an enclosed waterslide in the cliff's interior). It's really got everything we could ask for.

Soon after arriving, we had a quick lunch at La Cantina, a small and almost empty spot near the front entrance of the hotel. Immediately going native, Beth ordered a taco salad and I had a wonderful Burrito. We both ordered Margarita's – mine frozen and hers an "ultimate margarita." I can see now that this trip will be narrated from the point of view of food and booze.

Later Still on 11/21/00

We drove out to Scottsdale and visited Taliesin West, Frank Lloyd Wright's winter home and long time experiment in Organic Architecture. I've never really studied architecture and didn't much appreciate Wright's style. After visiting Taliesin West and learning about the wonders that Wright brought forth, I am now a fan.
<![if !supportEmptyParas]> <![endif]>
<![if !vml]>
<![endif]>   Wright's four main tenants:
<![if !supportEmptyParas]> <![endif]>
·  Destruction of "The Box"
·  The Nature of the site
·  Natural Materials & Methods
·  Building for Democracy

<![if !supportLineBreakNewLine]>
<![endif]>